The short answer to this question is yes, EpiPens do expire. The expiration date should be stamped on the label on the Epi-Pen.
When picking up your EpiPens at the pharmacy, you should open the package to ensure that the expiration date is at least a year out. Sometimes the pharmacy will give you one that is near it's expiration date by accident.
You should also keep in mind that the liquid within the EpiPen should be clear. If it is cloudy or discolored, you should properly dispose of it.
Always keep your EpiPen out of extreme temperatures–hot or cold. Prolonged exposure to extremely high or low temperatures could cause the EpiPen to go bad.
You should replace your EpiPen if you accidentally leave  it exposed to prolonged excessive heat or cold, or if it is past the expiration date.

Food Allergy News and Updates
Looking for a peanut free granola bar or recipes? Look no further. Find great allergy friendly recipes and foods.

BAS News
Janeen, over at WEGO Health, recently did a spotlight interview on Best Allergy Sites. You can view the interview by

Allergy Friendly Events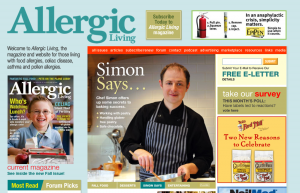 The holiday season will soon be upon us and what better way to celebrate than with a #foodallergy twitter party!

Recalls
ALMOND, MILK, AND SOY ALLERGY ALERT November 19, 2009 Nassau Candy Distributors is recalling "Tasty Dish Snack Tub: Chocolate Almonds,"

Food Allergy News and Updates
A great video with allergist Matthew Greenhawt discussing whether food allergic students are truly prepared.

Food Allergy News and Updates
According to a study by the American Academy of Allergy, Asthma & Immunology (AAAAI) and an article in Medical News