FAB Snacks

Site Supporter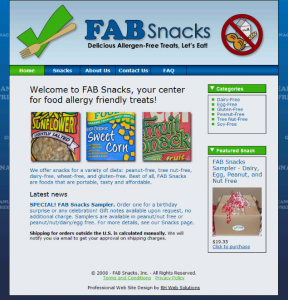 Website:
http://www.fabsnacks.com
Site Description:
FAB Snacks is your food allergy friendly snack center. We offer snacks for a variety of diets: peanut-free, tree nut-free, dairy-free, wheat-free, gluten-free and more. Best of all, FAB Snacks are foods that are portable, tasty and affordable, making brown-bagging-it a little easier for those with food allergies.

City/Location:
Sharon

State/Province:
Massachusetts

Country:
USA
Social Media and Communication:

http://twitter.com/FABsnacks

http://www.facebook.com/pages/FAB-Snacks/50962031105

Tagged dairy free, food allergy friendly snacks, gluten free, Peanut Free, tree nut free
Share this Post
Related Posts
Enjoy this post? Join our

RSS Feed

or share this post using the icons above. Thanks for visiting!