Freeda Vitamins
Site Supporter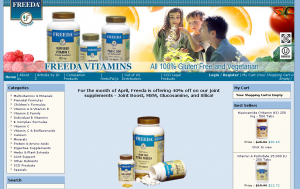 Website:
http://www.freedavitamins.com
Site Description:
We manufacture quality vitamins using the purest ingredients and avoiding most common allergens. All our products are gluten free, kosher, vegetarian, and contain no dairy, eggs, fish/shellfish, nuts, peanuts, wheat, artificial colors/flavors, sugar, salt, yeast, talc and more.
City/Location:
Long Island City
State/Province:
New York
Zip/Postal Code:
11101
Country:
USA
Phone Number:
1-800-777-3737

Tagged Freeda Vitamins, gluten free, kosher, vitamins
Share this Post
Related Posts
Enjoy this post? Join our

RSS Feed

or share this post using the icons above. Thanks for visiting!