Does anyone know of a bread made without gluten, dairy, corn or eggs? I have Celiac and just found out that I am also allergic to corn, dairy and eggs! HELP!!!
I must admit that at first I thought this might be near impossible. But a little digging turned up a couple of options.
Ener G Foods makes several types of bread. Their Tapioca Loaf is free from gluten, wheat, casein, dairy, egg, soy, nut, and corn.
Ingredients listed on their website are:
Filtered Water, Rice Flour, Tapioca Starch, High Oleic Safflower Oil, Pear Juice Concentrate, Bamboo Fiber, Yeast, Methylcellulose, Guar Gum, Orange Citrus Fiber, Salt, Calcium Phosphate, Sugar Cane Fiber, Baking Powder (Glucono Delta Lactone & Calcium Carbonate). Enriched with Thiamin (Vitamin B1), Riboflavin Vitamin B2),Niacin, Iron ,Folic acid and Vitamin D.
Enjoy Life Foods makes a bagel that might work for you. They do not list their facility as being corn free, but it is free from peanuts, tree nuts, egg, wheat, dairy, soy, fish and shellfish.
Ingredients listed on their website are:
Water; Brown and White Rice Flours; Tapioca Flour; Expeller-Pressed Vegetable Oil (Safflower Oil and/or Sunflower Oil); Honey; Grape, Apple and Pear Juice Concentrates; Natural Rice Dextrin; Rice Protein; Amaranth Flour; Ground Flaxseed; Xanthan Gum; Yeast; Salt
Enjoy Life products can be found through online stores and in grocery stores nationwide.
Ener G products can be bought through their website: http://www.ener-g.com

All Site Articles
If you are unsure what foods are causing your food allergy symptoms, a food journal is a great way to keep track of what is eaten and your food reactions.

Recalls
November 4, 2009 Charleston Cookie Company is recalling "Almond Cookies-Dean & Deluca Americana cookie tin" due to undeclared milk. The

All Site Articles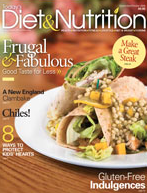 The September/October issue of Today's Diet & Nutrition magazine announced a new section titled "special needs". This section will address the dietary challenges and needs of those with diabetes, cancer, food allergies and more.

Recalls
**THE FOOD ALLERGY & ANAPHYLAXIS NETWORK SPECIAL FOOD ALLERGY ALERT NOTICE** MILK AND PEANUT ALLERGY ALERT August 31, 2009 Petri

Food Allergy News and Updates
**THE FOOD ALLERGY & ANAPHYLAXIS NETWORK SPECIAL FOOD ALLERGY ALERT NOTICE** ANCHOVY ALLERGY ALERT April 10, 2009 Cains Foods L.P.

Food Allergy News and Updates
You are in luck, there are plenty of great sources for nut and dairy free chocolate for allergy sufferers.