The BugaBees: Friends with Food Allergies
Site Supporter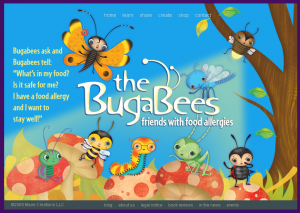 Website:
http://www.thebugabees.com
Site Description:
This award-wining picture book tells the story of eight best buggy friends and the different food challenges they face on a daily basis.  At home or at school, at the park, or on the beach, BugaBees find ways to stay safe, have fun, and remember that the joy of friendship is far sweeter than any food they can, or in some cases, can't have.
Site Authors:
Amy Recob
City/Location:
Madison
State/Province:
Wisconsin
Zip/Postal Code:
53562
Country:
USA
Phone Number:
608-712-1191


http://www.facebook.com/thebugabees
Blog:
http://www.thebugabees.blogspot.com/

Tagged allergy book, children's books, food allergies, food allergy, kids allergy books, kids books
Share this Post
Related Posts
Enjoy this post? Join our

RSS Feed

or share this post using the icons above. Thanks for visiting!