Fiddledee IDs
Editor's Pick
Site Supporter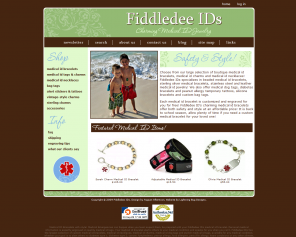 Website:
http://www.fiddledeeids.com

Site Description:
Fiddledee IDs offers charming medical id bracelets, medical id necklaces, medical bag tags, food allergy temporary tattoos and silicone bracelets. We offer a wide selection of beautiful medical id's with FREE ENRGAVING! Stay Safe In Style!
Site Authors:
Christina Henry
City/Location:
Flower Mound
State/Province:
Texas
Zip/Postal Code:
75022
Country:
USA
Phone Number:
972-539-5346

Tagged allergy alert bracelet, allergy jewelry, allergy stickers, allergy tattoos, medical alert, medical ID
Share this Post
Related Posts
Enjoy this post? Join our

RSS Feed

or share this post using the icons above. Thanks for visiting!