AllergyTranslation.com
Site Supporter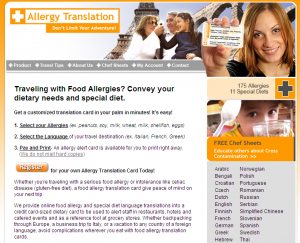 Website:
http://www.allergytranslation.com

Site Description:
Food allergy translation cards for allergic travelers to convey their dietary needs in a foreign language.
Site Categories:
Site Supporters, Products, Services
City/Location:
Toronto
State/Province:
Ontario
Country:
Canada

Tagged food allergy and restaurants, food allergy and travel, food allergy translation cards
Share this Post
Enjoy this post? Join our

RSS Feed

or share this post using the icons above. Thanks for visiting!