Allergic disease is the 5th leading chronic disease in the U.S. among all ages, and the 3rd common chronic disease among children under 18 years old. AAAAI
Approximately 2.2 million school-aged children have food allergy. AAAAI
One in every 17 children under the age of 3 has food allergy. AAAAI
Approximately 12 million Americans suffer from food allergy, with 6.9 million allergic to seafood and 3.3 million allergic to peanuts or tree nuts. AAAAI
Eight foods account for 90% of all reactions in the U.S.: milk, eggs, peanuts, tree nuts, wheat, soy, fish, and shellfish. AAAAI
Food allergies cause 30,000 cases of anaphylaxis, 2,000 hospitalizations, and 150 deaths annually. NIAID
The costs associated with allergic disease are extraordinarily high: one analysis estimated it at $7.9 billion per year, of which $4.5 billion was spent on direct care and $3.4 billion on indirect costs, related primarily to lost work productivity. AAAAI
AAAAI-American Academy of Asthma Allergy and Immunology
NIAID-National Institute of Allergy and Infectious Diseases

Allergy Blogs
Featured Food Allergy Blog: Blessed Little Family, blessedlittlefamily.wordpress.com Name of Blogger: Ellie Author Bio: My name is Ellie. I'm a wife and

All Site Articles
In the past, I haven't had great baking results. But after some experimenting over the weekend I was able to come with perfect results.

Food Allergy News and Updates
Incidence of Anaphylaxis During Winter Events Highlights Importance of Adding a Preparedness Checklist to Holiday Planning

Allergy Friendly Events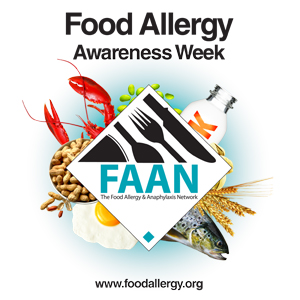 Food Allergy Awareness Week is May 9-15 and we are celebrating
with a huge Food Allergy Twitter Party!

All Site Articles
Easter Sunday is a little over a month a way and the chocolate bunnies, eggs and chicks are out and ready to be bought.

Food - Recipes - Product Reviews
Bruschetta is an Italian appetizer made with bread, garlic, tomatoes and olive oil. It can be adapted numerous ways and makes a great meal or snack.